About ScanTherm, the leading specialist building thermography consultancy serving clients in London, Kent and Nationwide.
Mission
It is simple to state our mission: "To be the best building thermographers in the UK". 
What does this mean?  Firstly, "best" does not mean biggest. Our ambition is to remain small enough to be truly specialised and offer a bespoke, competent, friendly and professional service.  And when we say "building thermographer" we are not generalist thermographers scanning horses, oil rigs, furnaces or mechanical systems. Each area has its own specialisms.  Our specialisms are firstly the building "fabric" i.e. the roof, walls, floors, doors and windows of the building. And secondly, the building services required to run the building such as heating, ventilation, hot and cold water and waste systems and LV electrical systems.
Are we the best? We can't say – but we truly believe we are one of them, and we aspire to keep improving.
ScanTherm: Our Focus and Scope

Our focus is 100% on non-destructive testing of buildings using thermography as the key tool.  We have built some of the deepest knowledge of building thermography in the UK and use this to provide the best thermal imaging surveys and training to all manner of clients.  Thermal imaging is a natural partner to other non-destructive testing methods which we either provide in house and/or with similarly specialised partners. These included advanced damp and leak detection and tracing, air tightness testing and aerial thermal surveys.
ScanTherm: Our Location
The thermography business has been based in Tonbridge Kent for nearly 10 years from where we can travel to central London within 45 minutes from our office located by the rail station and have quick road access to the M25.
We have provided national and international services to commercial clients for many years and we are increasingly able to provide individual homeowners surveys through our regional partners' offices.
We travel all over the country and abroad to provide training.
ScanTherm: Our Experience, Training and Certification
Our lead thermographer's experience of thermal imaging started around 30 years ago in the world of research and development following a degree and post-graduate diploma in engineering. He now holds a Level 3 in Thermography from ITC and has Level 2 PCN and SNT-TC-1A certification in line with ISO 18436-7 and is a member of BINDT (British Institute of Non-Destructive Testing) , IACT (International Association of Certified Thermographers) and the UKTA (UK Thermography Association). For more than 5 years, he has provided application  and CPD training in  building thermography to hundreds of students both in the UK and abroad. (See our own training programs here).
In the past 10 years, we have built significant experience of building thermo-graphy specifically and have surveyed millions of square feet of buildings in the UK, Germany, Belgium and Netherlands.
ScanTherm: Health and Safety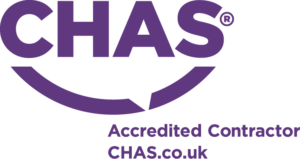 We have been independently audited by CHAS for health and safety compliance as required by many construction companies.
ScanTherm: Imaging Equipment

ScanTherm has a wide range of equipment. Our primary cameras use 640×480 resolution with a thermal sensitivity <35mK.  We also utilise the most advanced software to process and create panoramic thermal images, and have wide angle and telephoto lenses for some of our cameras. What does this all mean? It means we can create infrared images with the highest geometric and thermal resolution possible.  Whilst this takes time, it can provide the most understandable thermal images leading to the best interpretation and recommendations.
Thermal image interpretation is not just about the image itself: it is about the process used to take it, the data gathered prior to and during the test and other design and historical information on the building in question. We therefore use the best instruments from Tramex, Testo, Bosch, Panasonic and Fluke to provide supporting data and verification for our thermal images.
We also have relationships with specialists aerial imaging allowing us to elevate thermal imaging cameras either by mast or drone – whichever is the best solution in a given situation. As any thermographer knows, elevation can be invaluable in getting the definitive thermal image!
ScanTherm: Quality
Quality is important to us: both technical rigour and customer service. We operate to defined procedures based on industry guidelines and best practice. We are certified to ISO 9001.
ScanTherm: Insurance
We of course hold all statutory insurance for employee and public liability and in addition, have £0.5m of Professional Indemnity insurance.
Clients
Our clients include commercial organisations – both private and public sector, and charities – and individual home owners. We provide infrared surveys on new buildings, historic buildings, private houses, commercial buildings, social housing and even Passivhaus thermographic surveys. We will happily share testimonials and sample reports to prospective clients on request. Please phone us or email for further information.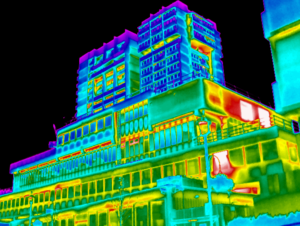 Many of our clients are commercial enterprises such as main contractors, local government, the NHS, surveyors, architects, housing associations, building control and facilities management companies, emergency services and councils.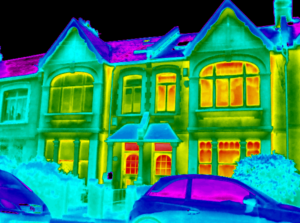 We also serve home buyers and home owners providing independent expert advice.