We provide heat loss surveys for home owners wanting to learn why their home is cold, where it is costing them money and wasting energy.
ScanTherm uses the highest quality professional  infrared thermal imaging equipment and the  "best practice" approach to provide home owners with valuable information on their homes. We will provide a courteous and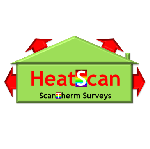 helpful service and will explain why we survey the way we do, and why we need to do it in specific conditions (typically early in the morning or late in the evening during cold weather). We don't ask you questions like "do you want an internal or external survey" because we are the experts and will advise you what we should do based upon what you want to achieve!
Our HeatScan Home surveys are priced individually dependent upon house location and house size.  We have surveyed all sizes of home from small to very large.
All are conducted under appropriate environmental conditions to ensure valid results are obtained. We do not provide "quick and dirty" thermal surveys which may look impressive but are often meaningless and worse, may mislead!