18.09.17 – We are changing some of our thermal cameras – check our Used camera page for some high quality and good value used thermal cameras.
16.06.17 – ITC will be running our Advanced Building Thermography course from Oct 3rd-5th at their UK headquarters in West Malling.  Please get in touch here or call us on 01732 783557 very soon to book a place.  This course is for people who have already completed our 3-day Applied Building Thermography course or a Level/Category 1 course and have some field experience.  When we last ran the course this was some of the feedback: "The course was brilliant. The instructor was spot-on – really good. Literature was superb – easy to read and well laid out – 5stars!".
09.06.17 – July 4-6th 3-day applied thermography course in Mansfield is now fully booked. If you wish to go on a waiting list please get in touch and if a chance to join comes up we will be in touch.
28.04.17 – Our next building thermography training course scheduled for July in Mansfield is filling fast. Do get in touch soon if you wish to join or to find out more.
28.02.17 – Forthcoming training – 3 day Applied Building Thermography Training will be running in Bracknell April 25-27th – ONLY 1 SPACE LEFT! Next course after that is July 4-6th in Mansfield. Please get in touch for more information.
22.12.16 – We are moving!  From Jan 1 2017 our office will be at Riverside House, River Lawn Road, Tonbridge, Kent, TN9 1EP.  We can offer on-site training here and are very easy to get to – only 150m from Tonbridge Station with hotels in easy walking distance.
20.12.16 – Some 2017 training dates are now available – more to be added soon – see our Thermography Training page here.
14.11.16 – Tomorrow we launch our new Advanced Building Thermography course at Flir ITC. Feedback from the first (sold out) cohort to go through the course eagerly anticipated!
14.11.16 – Fame and maybe fortune awaits….possibly… listen to us on today on Radio Kent conducting a survey on a home looking for heat loss. We are on just after 6.30 and again at 7.45 and some images from the survey will go on their Facebook page .
03.10.16 – It is interesting to note that BRE appear to be widening their recommendations for the use professional thermography in domestic refurbishment – see their recent briefing document "Sustainable refurbishment of domestic buildings using BREEAM – A guide to BREEAM Domestic Refurbishment and how to incorporate sustainability through the refurbishment of existing homes." This has extensive recommendations on the use of thermal imaging. It is available for download from lower down on their page linked here. ScanTherm are glad to be at the leading edge of domestic refurbishment thermography using BREEAM having first pioneered thermographic surveys compliant with earlier 2011 BREEAM schemes and many times since.
15.09.16 – We are pleased to announce that Flir's own training arm ITC – the leading global thermographic training organisation – will be launching our **NEW** Advanced Building Thermography course. from November 15th-17th at their UK headquarters in West Malling.  As of today, the course is already quite full and only a few places remain so please get in touch here or call us on 01732 368587 very soon to book a place.  This course is for people who have already completed our 3-day Applied Building Thermography course or a Level/Category 1 course and have some field experience.
01.09.16 – We will soon be launching a **NEW**Advanced Building Thermography course.  This is a 3-day course designed for people with some experience and who been through structured training such as a Level 1 course or preferably our own 3-day Applied Building Thermography course S3BT.  It takes the major topics deeper in terms of practical application based knowledge and has many case studies from our surveying experiences majoring on heat loss, building analysis and damp assessment using thermography as the key tool. Please contact us for more details.
05.08.16 – We have set 2 new training dates for out 3-day Applied Thermography Training course – both will be held in Berkshire. The first is on Sept 6-8th and the second on Oct 11-13th.
16.05.16 – Our next Applied Building Thermography training course is nearly full now – only one place is now left! This runs from May 24-26th 2016 in Mansfield.  Come and learn what building thermography is REALLY about and have 3 days intensive training using a range of cameras from £200 to £2000 to £20,000 to see what they can and cannot do. Learn the science and practical methods to locate heat loss, locate moisture and trace water leaks, assess underfloor heating systems, plumbing and HVAC as well as the basics of electrical and solar assessment using thermal imaging. Will you go away an expert? In 3 very intensive days? No, of course not – but you should learn enough to START undertaking basic surveys in 1 or 2 fields whilst knowing the limitations of your equipment and yourself. What is more, our unique applications approach is well documented in a large training manual which you can refer to time and time again as your experience grows.
18.04.16 – If you want to learn how to  find moisture in buildings using thermal imaging, why not come to our next Applied Building Thermography training course?  We use a "flood house" to conduct practical work using a range of different devices as well as infrared cameras.  This hands-on thermography training, together with our unique structured approach to understanding the theory behind 3 different methods of moisture detection sets our thermography training apart from ANYTHING else.  Once you learn the basic methods, you will start to see how you can apply this to solving roof leaks, wall and floor leaks, pipe leaks, underfloor heating leaks, condensation related problems, defective CWI using thermal imaging.  Our next building thermography training course is on May 24-26th  2016. There are 2 places left so please get in touch soon.
26.o1.16 – Very quiet on the news front – why? – because we are so busy out surveying at every opportunity. Current projects include surveying 6 university campuses identifying areas of excess heat loss, working with a major national house builder helping improve the design and build quality on their current development, numerous BREEAM thermographic surveys where we locate continuity of insulation, assess thermal bridging and locate air leaks, various roof surveys where we use thermal imaging and our other non-destructive tools to locate leaks, and many underfloor heating projects. And of course, just talking to people with questions about thermal imaging either because they are considering training with us (see new dates on the Training Page) or justifying a survey or consultancy project with us.
20.11.15 – As of today ScanTherm's lead thermographer has been certified as an ITC Level 3 "Master" Thermographer – one of the first in the UK, in addition to Level 2 PCN and ASNT certification.
13.11.15 – Welcome to Peter who in addition to his Applied Thermography Certification has just completed his extensive thermography on-site mentoring/training with us and is now an Associate Thermographer let loose on our customers!
23.10.15 – Any one interested to see how thermography can be used to locate heat loss from buildings should could to our seminar at the EMEX show entitled "Building Fabric Heat Loss: Case Studies Using Thermographic Methods" in the Energy Management Solutions stream on 12th November 2015 – 15:00 – 15:25.
14.10.15 – We will be on Stand A29 at EMEX 2015 on November 11-12th at the Excel Centre in London.
10.09.15 – We have been asked by the RICS to run a CPD seminar at the Kent Construction Expo (see below) at 12pm "What Lies Within: Case Studies in Non-Intrusive Building Diagnosis using Infrared Thermography". This will provide a FREE 30 minute CPD qualifying introduction to the use of thermal imaging in buildings.
04.09.15 – We will be on Stand B20 at the Kent Construction Expo on Wednesday 7 October, at the Event Centre, Detling, nr Maidstone, Kent ME14 3JF. Do come and meet us!
18.08.15 – Is building thermography a "winter-only" activity? Certainly not! We have been massively busy this summer on a wide range of surveys including many under floor heating inspections, solar PV projects, structural leaks, electrical inspections and air tightness tests. Last week alone we inspected amongst other things 3 under floor heating systems using thermal scanning. One was to locate the position of pipes to avoid drilling through them as part of a flood recovery target drying program, one was to find if a system was leaking and the last to give safe drilling points for in-situ moisture testing of a recently laid screed floor. Using thermal imaging to diagnose under floor heating is not always as easy as it appears – expensive mistakes can result so come to the experts in thermal scanning of floor heating systems!
16.07.15 – ScanTherm proudly welcomes another graduate of our Applied Building Thermography training. The technical manager of one of the UK's leading fire and flood restoration companies was amongst others to pass recent courses.  Feedback on ScanTherm training is consistently high – we have never received less than 5.0/5.0 on the overall feedback of our 3 day Applied Thermography Course which provides a practical start to heat loss, damp and leak detection, electrical, solar, plumbing and heating surveys.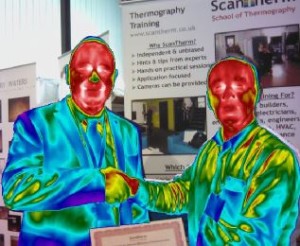 10.06.15 – We have just announced some new thermal imaging training dates – specifically some CPD events covering building thermography. These include on a 2  hour CPD seminar and a 4 hour CPD which is a hands-on introduction to building thermography – both will run in Tonbridge Kent on Sept 16th.  See here for more details.
05.06.15 – Please come to the EcoTechnology Show at Brighton June 11 and 12th 2015 and meet us on Stand B20.  Come and discuss how we can add value or solve problems for you. We work conduct domestic thermal imaging surveys and commercial thermal imaging surveys diagnosing and solving heat loss issues, water leak detection and many other problems. Come to see us to really understand what we can do and our passion for the subject! More details at http://www.ecotechnologyshow.co.uk/
06.05.15 – We are providing a CPD seminar to The Green Register on July 2nd entitled "What lies beneath? How thermographic imaging can reveal how buildings are really built".  The seminar presented in London with our colleagues from Cedar Rydal will last 2 hours and cover how the design team used thermography as an 'as built' verification tool and the 'stick and carrot' of verification within the building contract documents.   We will also cover the "state of the art" in building thermography including how a BREEAM thermographic survey can generate points, how to locate moisture and trace leaks in buildings, how to investigate underfloor heating systems and leaks from central heating and other buried pipes, structural investigation of listed and historic buildings and many other exciting applications!  More information and booking information can be found at http://www.greenregister.org.uk/civicrm/event/info?id=242
23.04.15 – ScanTherm will be presenting a seminar entitled "Fabric First: Closing the Gap between Design Intent and Reality using Thermal Imaging" at the Eco Technology Show in Brighton on June 11th 2015.  The seminar will be presented in partnership with Cedar Rydal Architects based on a case study covering 5 highly efficient houses built recently in Kent. Please contact us for more information.
19.03.15 – ScanTherm is featured in a new campaign by leading Swedish low-energy home builder Trivselhus. Trivselhus has been selected to show one of the 3 full houses on display at The Ideal Home Exhibition at Olympia March 20-April 6.  Being Kent's leading thermographic consultants, ScanTherm had originally been contracted to "sign-off" the thermal performance of 5 Trivselhus homes built in Meopham Kent in 2014.  Based on this the power of thermal imaging to verify the performance of new buldings was realised and has become a feature of their homes.  See the Trivselhus blog on our thermal imaging here or call us to discuss how we can help test or promote your building.
03.03.15 – We are pleased to have now received NPPV Level 2 (Non-Police Personnel Vetting) security clearance which allows ScanTherm to provide thermographic services working unsupervised in secure/restricted Police facilities. Do we now have the only Level 2 PCN Thermographer with NPPV Level 2 security clearance in the UK? We don't know – but quite probably!!
27.02.15 – As leaders in conducting BREEAM thermographic surveys, ScanTherm has built up some experience on a range of different buildings under SD5073 (BREEAM 2011) and SD5072 (BREEAM 2012). We are developing some hints and tips to provide to customers who place an order for our Level 2 thermographers to conduct their BREEAM thermographic survey to maximise the chances of passing first time.  These will be equally applicable to thermographic surveys conducted under SD5076 (BREEAM 2014).  Please call us to discuss what we can offer in added-value to the thermographic survey process.
06.01.15 – Our 2015 dates for building thermography training and level 1 thermography training are now available on the Thermography Training page here.
27.11.2014 – Very lively discussion at the Sustainable Business Network breakfast with great Q&A session at the end of our presentation on the use of thermal imaging to locate heat loss in buildings. Nice team photo!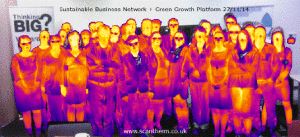 14.11.2014 – Please do come to our seminar in Brighton on November 27th at the Sustainable Business Partnership networking breakfast. More information can be found here.
03.11.2014 – At last!  It is cold enough for us to start conducting BREEAM thermographic surveys which will comply with the requirements of BS/EN 13187.  When we first started conducting this type of survey 2 or 3 years ago we could start in October but this year has been too warm and this week we start on our schedule of surveys which can generate points under BREEAM 2011, 2012 and 2014 schemes.
20.10.2014 – As people turn on their heating systems we have received many enquiries regarding how ScanTherm can use thermal imaging to find leaks, uneven heat distribution, damage to flooring materials and other issues with their underfloor heating system.  It can be far more cost effective to use thermography to test the location and integrity of underfloor heating systems that any other method which is almost always destructive.
13.10.2014 – A major theme of our work last year was using thermal imaging together with our other non-destructive tools to analyse buildings for the presence of wet cavity wall insulation.  Whilst an intrusive borescope investigation is useful in small areas we can assess whole buildings from small houses to large blocks of flats from ground level to locate partial cavity wall fill and potential areas of wet insulation.   Please contact us for more information on this important area.
17.09.2014 – Our Applied Building Thermography training course on Oct 21-23rd is filling up fast. We only have a couple of places left so please get in touch soon if you are interested. More information can be found here.
03.09.14 – ScanTherm has been requested by the Sustainable Business Partnership to make a presentation at their breakfast event at The Keep in Brighton on Thursday 27th November. Please do come along. More information can be found here.
18.08.14 – Please do come and see us on Stand 50 at the Kent Construction Expo on October 8th 2014 at the Kent Event Centre, Detling, Maidstone.  It is FREE to attend so do sign up!


14.07.14 – ScanTherm is proud to announce that we have been awarded funding from the European Regional Development Fund, Low Carbon Kent and Kent County Council to expand our pioneering and technically thorough approach to surveying Council and Housing Association housing stock. RSLs and Councils who would like to learn more should get in touch.


18.06.14 – Come and see us at the Eco Technology Show in Brighton on stand D1. The show runs on June 26th and 27th.  We will be jointly presenting a seminar with Town and Country Housing Group on applications for thermal imaging in social housing.
02.05.14 – ScanTherm will be presenting another CPD seminar for the Royal Institute of British Architects (RIBA) on June 10th 2014 in Tonbridge covering the ever growing range of applications for thermal imaging in construction. For more information please get in touch.
22.01.14 – ScanTherm was requested by BBC Radio Kent to conduct a live scan this morning on a  listener's home to validate an energy companies claims that 50% of Kent homes need insulation improvements. A couple of images are shown below. In the few minutes we had to do a complete home survey live on air we found numerous quick fixes which the homeowners were delighted to know of – they knew rooms were cold but not why!
07.11.13 – A shared stand with our partner Hawkeye Aerial Cameras at the Kent Construction Expo on November 6th allowed us to showcase our services ranging from advanced leak detection, commercial and domestic heat loss surveys, aerial thermographic surveys of roofs and solar panels.  We made lots of good contacts with existing and new customers across the south east and further afield and met some interesting companies also exhibiting their products and services.
14.10.2013 – We met many prospective customers at the Energy and Renewable Technologies Event at the South West Energy Centre. This event was run by South Devon College in partnership with TUV Sud on the 10th and 11th October and we were pleased to be invited to run some seminars and workshops on building thermography at the event.
04.10.2013 – ScanTherm will be running a seminar in Brighton on October 16th 2013 for the Southern Landlords Association showing how thermography can be used with other non-destructive techniques and tools for the efficient maintenance of all types of properties.
02.10.2013 – RIBA much appreciated a lively CPD presented by Mark Colyer rating the seminar unanimously as "Excellent" and totally meeting expectations. More will be scheduled soon!
03.09.2013 – ScanTherm will be exhibiting at Construction Expo 2013 on November 6th 2013 at the Mercure Great Danes in Maidstone. Please do come and see us on Stand 60.
16.07.2013 – ScanTherm's Managing Director Mark Colyer will be leading a CPD (continuous professional development) seminar for the Royal Institute of British Architects (RIBA) on thermal imaging applications in buildings on October 1st 2013 in Portsmouth. Click on the link for more details http://www.architecture.com/RegionsAndInternational/UKNationsAndRegions/England/RIBASouth/Events/CPD-Portsmouth.aspx#.UeVQXI3vu3s.
18.06.2013 – ScanTherm contributed to the new Passivhaus Trust guidance book "Why Passivhaus" with some thermal images taken from a thermal survey of the Hadlow College Rural Regeneration Centre which is an award winning building to Passivhaus standards. The guide can be viewed here: http://issuu.com/passivhaus_trust/docs/why_passivhaus_2013_final
13.06.2013 – ScanTherm will be on stand D5 at the EcoTechnology Show June 14/15th at the Brighton Centre.  Mark Colyer will also be leading a seminar on building thermography on Saturday PM. So please come and meet us and discuss what you needs are, whether it is leak tracing, heat loss reduction or diagnosing other issues non-destructively – thermal imaging may well be an answer!
12.06.2013 – Welcome to our new website! Please bear with us while we add the final pages and sort any bugs.  Any comments or feedback welcome!! Thanks