Thermal imaging inspections for assessing heat loss caused by poor continuity of insulation, thermal bridging, low U-value and air leaks.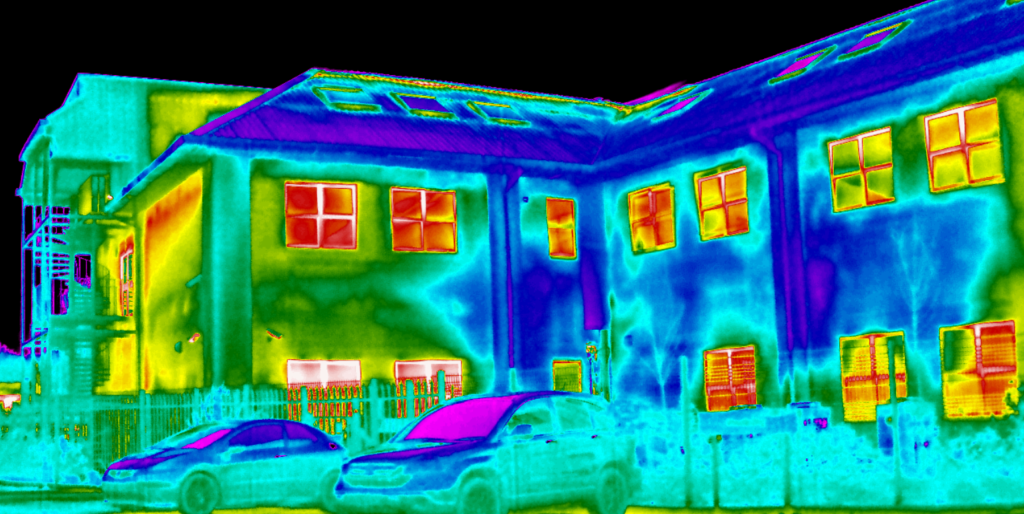 Why Conduct A Thermographic Inspection?
A sensitive and high spatial resolution thermal imaging camera is the best and fastest way of assessing the thermal performance of a building envelope in the as-built condition. ScanTherm has extensive experience of assessing thermal performance of many types of commercial building.
There are many reasons why a thermographic heat loss inspection may be commissioned. For new buildings, this may be to prove compliance with Part L2 of the building regulations or simply to assure sub-contractor quality is acceptable during the defects period.
One of the most common reasons to commission an infrared survey it so to provide before- and after-refurbishment data. In some case a thermal imaging survey is built into the specification of the project as it can save money later as well as ensure project quality.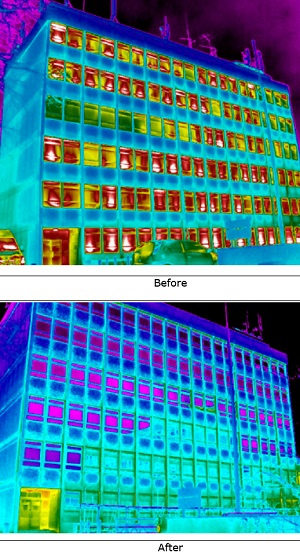 The benefits of thermal imaging a building prior to refurbishment include:
Providing technical input on the existing condition and areas of weakness
Providing justification for the project.  A technical thermographic based analysis is useful to architects and engineers. The images themselves can provide easily understood visualisation of the heat loss to anyone involved in project justification and decision making.  For example, our thermal images have been used by organisations like schools to help raise millions of pounds of funding for refurbishment.
Generating BREEAM points
The benefits of scanning the building AFTER refurbishment include:
Checking workmanship, for example that the CWI (cavity wall insulation) fill is complete or that air leaks are not excessive
Ensuring any rectification required is identified during the Defects Period
Proof of thermal performance improvement for BREEAM
See our dedicated page on BREEAM Thermographic Surveys here.
How To Conduct a Thermographic Inspection of A Commercial Building
We must always gather environmental data inside and out. We normally like to conduct thermal scans on both internal and external wall surfaces to make the best interpretations of thermal images.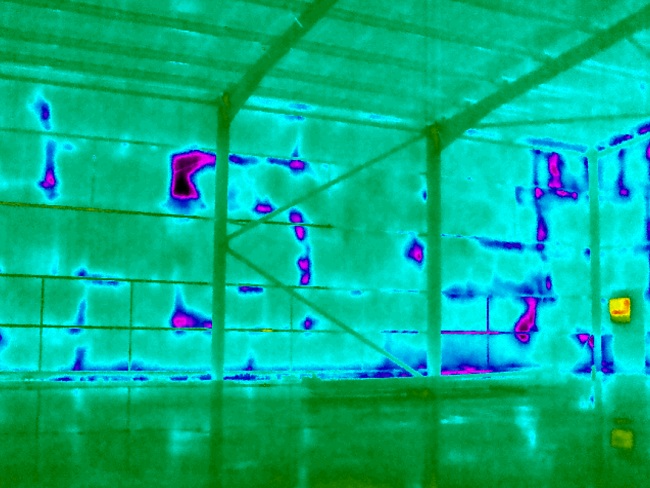 The weather conditions to conduct this type of survey are normally important. We always work with our clients to find the best compromise between acceptable survey conditions and project timing and other constraints.
For heat loss surveys, insulation checks and BREEAM surveys the building must be heated to a constant temperature differential above the outside air temperature. In the case of shell and core buildings this might require the installation of temporary heating systems. We are happy to advise on this.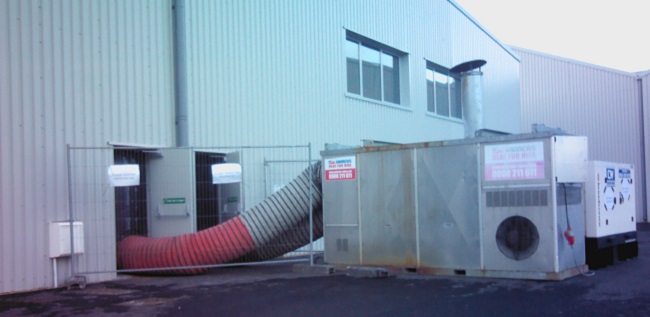 In some cases it is preferable to conduct the thermographic survey whilst the building is pressurised or de-pressurised using a blower door. A huge amount of thermal information can be gathered on a building envelope in this case.