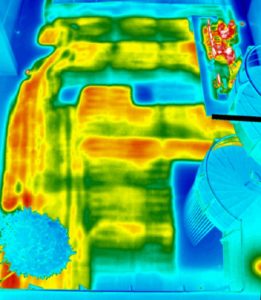 We inspect under floor heating systems for location, leaks and performance.
Underfloor heating systems (UFH) inspection is becoming far more common. Most systems are hydronic, or fluid based systems but many use an electric heating element.  In either case, once they are installed, without thermal imaging it is nearly impossible to precisely locate them. And even harder for anyone to assess their performance without opening up the floor. We will use sensitive thermal imaging cameras, to locate both hot and in many cases, cold pipes buried in or under other building materials or electric underfloor heating elements.
There are many reasons to use thermal imaging to inspect an under floor heating system.
During refurbishment or fit out,contractors may need to move or replace walls or fittings. Before they can be re-installed it is important to know that floor fixings will not interfere with the under floor heating. It can be expensive and problematic to damage the under floor heating system, especially if a small leak occurs which takes a long period to present. By this time, major water damage can have occurred. A ScanTherm under floor heating inspection will avoid this problem.
The flood restoration industry regularly needs to dry sub-floor structures and insulation below an underfloor heating system. In this case, we will provide multiple drilling points to allow the drying company to safely install heat drying equipment around the existing system, saving complete removal of the floor. If local opening up is required we can provide precise information on where to do this. ScanTherm has worked directly and indirectly for many insurance companies as well as some of the leading fire and flood restoration companies and many contractors and developers.

We can provide a visual record of where pipes of all sorts are situated and/or physical marking of the building to make a permanent record of the location. Often there is no building information available on the location of older systems and asbestos insulation may preclude destructive investigation or even removal of inspection covers. In this case, the non-destructive nature of thermal imaging can be a huge cost save as well as offering health and safety benefits.

Homeowners or building occupiers of facility managers can have concerns over the performance of an underfloor heating system.  In this case, we will provide a full technical analysis of the heating elements. We will document location, performance, flow and return temperatures.

In some cases systems appear to behave erratically. In this case we will test that the operation of the system is in line with the design and that controllers are correctly linked to the system.  We have found cases where the system simply does not exist where it is meant to, or wires have literally been crossed with controllers in one area operating circuits elsewhere.