"The (NEW 3-day Advanced Building Thermography) course was brilliant.  The instructor was spot-on – really good. Literature was superb – easy to read and well laid out – 5stars!".  
We provide thermal camera training to individuals and companies. Our thermography training courses include an Introduction to Thermography, Applied Thermography Training or Level 1 courses in accordance with ISO 18436/7.
Please do see some more testimonials from trainees here – they are worth more than our own claims!
The basis of our training is experience. We "preach what we practice".  Our training includes Level 1 training in accordance with ISO 18436/7 requirements and we specialise in applied building thermography training based on experience of surveying UK buildings. What is more – we are independent of camera manufacturers and salesmen so we can give you unbiased advice on what brand and type of camera to buy, dependent on your specific needs.
Our experience in providing BREEAM thermographic surveys, working on residential and commercial buildings looking for  heat loss, diagnosing plumbing and HVAC systems, scanning solar farms and of course tracing water leaks through the building envelope as well as from systems inside qualifies us to teach from personal experience. Our engineering background runs back over 25 years to where we first used thermography in Research and Development activities in the UK and Germany. We therefore have a strong technical understanding as well as practical building thermography experience from new builds, maintenance, renovations and historic building diagnostics.   The unique structure of our applied thermography training built around UK construction case studies separates us from anything else. So whether you are a beginner, or have a little experience or are an experienced thermographer wanting to now learn about the unique world of building thermography, we have something for you.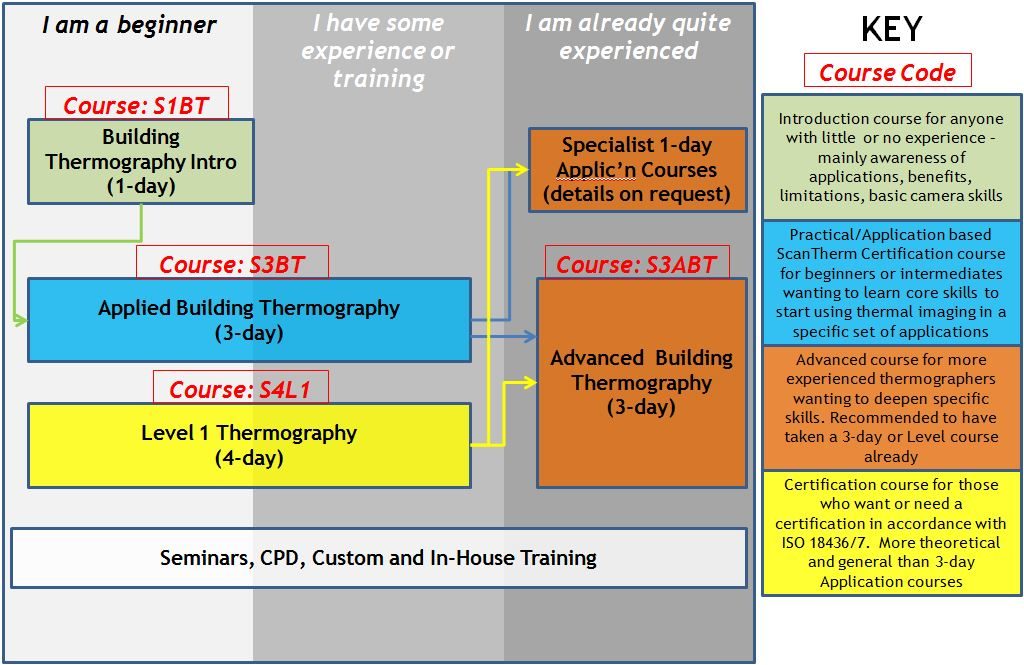 Our lead trainer certified to Level 2 PCN and Level 3 by ITC has trained hundreds of students over the past few years as well as having provided CPD training for professional bodies such as the Royal Institute of British Architects and Royal Institution of Chartered Surveyors so our courses are effective, professional and fun. We are a UK Registered Learning Provider UKPRN 10046099 and have ISO 9001 Certification in the provision of thermography training.
Testimonials from Applied Building Thermography training
"Absolutely spot on for the objectives I had"
"The course went above what I expected – very informative"
"I was recommended course by a colleague who discussed its material and strengths-it met every one of them. The instructor and his experienced knowledge the variety of camera software to see and the presentation and volume of information were strong points"
"I thought it was brilliant throughout. Excellent"
"I found the course far more insightful than expected"
"I have been very impressed with the relevant theoretical explanations being put into practice with real life situations"
"Excellent course which will benefit my job"
"I know I can now feel confident when using my camera out on site"
"Covered all the basic knowledge on thermography which I needed to know. It basically covered every aspect of thermography and will help a beginner such as myself"
"Exceeded my expectations"
"Excellent course making the subject matter easy to understand and pragmatic to apply"
"Great course. Good to have a trainer with a lot of practical experience."
"Excellent course with the practical knowledge of trainer making it very followable – well explained"
"Experienced teacher with much work in field"
"I have learnt a vast amount of valuable information regarding thermal imagery"
"Exceeded my expectations. There is so much involved in the subject of thermography. Excellent!"
"The instructor was both very knowledgeable and down-to-earth"
"The strongest points were both the practical and theory parts being explained in several different ways. No improvements are needed"
"Excellent introduction to thermography – practical hands-on training was the strongest point."
"Very thorough instruction and presentation of a complex subject for a beginner. It was very interactive and practical and open to any questions"
"Thank you for an excellent training course it was informative and interesting"
"Exceeded expectations. The ability to communicate with Mark and have open and frank conversations were strong points"
"It gave me a very good introduction to a completely unknown industry and the confidence to make a start. It provided a complete picture installing confidence and a good start to a complex discipline"
"I thought it was a brilliant course and I'd encourage other building conservators to do the same – a good range covered which enabled new avenues to be enquired about. Strongest point was the inter-mixture of practical with theoretical. "
"The course was easy to engage with throughout the length of it. Strongest point was the sense of genuine interest of the instructor"
"Everything was covered to be able to carry out basic thermal imaging"
"I learned more than expected about the subject-very holistic. The hands-on and tutor engagement during the practical were strengths"
"Communication from teacher to student was a strong point"
"Was above and beyond what I thought it would be – really interesting and in some cases exciting too!"
"Mark himself kept me interested for 3 days"
"Very good and easy to understand method of training"
"I go on, and have been on, a lot of courses in my career and in general very few have been delivered by people who have a real passion for their subject – something you exuded to the full"
"Gives me a lot of confidence & a good process to follow"
"An enormous amount of info in just 3 days"
"More than I ever anticipated"
"Very in-depth and got you thinking"
"Plenty of depth, good mix of theory and practical"
"I didn't know what to expect, but the training will now open many doors into furthering the new skills I have and new opportunities"
"It enabled me to understand to a better degree thermal cameras"
"Now have a stronger understanding of thermography"
"Hands on Lab work and the theory to why and how to correctly adjust your camera to optimise and get better results with confidence"
"Have gained a huge amount of additional information, on a subject that I have been working in for several years"
"I now feel that I can go to a job and be competent in what I am looking for"
"It has increased my knowledge to use the camera correctly and now my ability to interpret the IR images"
"From having little or no knowledge about IR, it has provided me with a clear understanding of the industry and the benefits it provides to me, which will allow me to enter the market"
"I needed to understand how to operate the camera and this course provide me that"
"Gained knowledge and understanding about how the camera works and how to operate it"
"It has now made me understand what the benefits of using IR in my daily business and the ROI"
"I now have a basic sound understanding of this art and am confident to go and conduct inspections"
"Much more idea of how to conduct a real life survey – strong emphasis on practical hands-on"
"Clear presentation of principles & application of thermography – experience of trainer"
"Very thorough – covered far more than I initially came for"
"Very relaxed and informative teaching approach, trainers teaching style and knowledge"